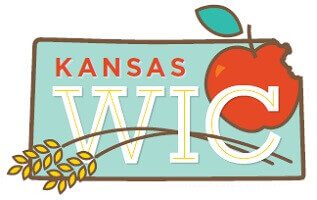 For General WIC Information:
Call: 785-296-1320
Click here to visit the Kansas WIC client portal.
Click here to find contact information for your local WIC office.
How to Apply
Call your local WIC Agency to schedule an appointment. Click here for an interactive map of Kansas that will provide you the phone number and address of your local WIC Agency.
Who's Eligible?
WIC serves Kansas residents who are:
Pregnant
Breastfeeding, up to baby's first birthday
Non-breastfeeding mothers, up to six months after baby's birth
Infants and children under five years old
WIC clients must meet WIC income guidelines and have a medical or nutritional need.
Many working people are eligible for WIC and don't realize it.
How to use your WIC Checks

Follow the steps below in the order they appear.
1) Make sure your name is listed under the signature line. Only the names listed can use the WIC check at the store. Contact your local WIC agency if someone else needs to use the WIC check.
2) Check the dates.
a. Make sure today's date is the same as or after the "Do not use before this date" and
b. before or the same as the "Do not use after this date" printed in the upper right hand corner of the check.
3) Choose the items you want to buy from the "Authorized Food" list on the WIC check.
a. You do not have to buy all the items listed on the check.
b. Never accept a rain check-if a store offers you a rain check, report the store to your local WIC agency.
c. If the store is out of the item you need, try another WIC store.
4) Refer to the WIC approved foods section of this booklet for details about brands, sizes, types and flavors.
a. You must buy the least expensive brand of milk, cheese, eggs, dry beans/peas, and infant cereal. Least expensive is defined as least expensive brand on the shelf at the time of purchase.
b. Remember that as long as the size is correct: container = bottle = can = box.
5) Group WIC foods together according to what is listed on each check. Keep WIC foods separate from any other foods you may buy.
6) After scanning your items, the cashier will write in the total dollar amount of your WIC foods and their initials.
7) The cashier will hand the check back for you to sign and date. Never sign or date a WIC check before the "Actual Purchase Amt" has been filled in.
8) Show the cashier your ID.
WIC approved foods are good sources of important nutrients. No single food supplies all the nutrients you need, so eat many different foods every day to stay healthy.
WIC Food Packages provide a variety of foods but not everything you need. Adding your WIC foods to foods you usually eat will help you have a healthier diet. The food package you receive depends upon whether you are pregnant or breastfeeding, and the age of your child.